This pumpkin cobbler was created as part of a sponsored post for Albertsons.  All thoughts are my own. #StockUpSale
It's the season of pumpkin and today I'm sharing an easy recipe that you'll definitely want to pin: homemade pumpkin cobbler!  With a scoop of vanilla ice cream on top and a cup of coffee alongside, this is the perfect fall dessert!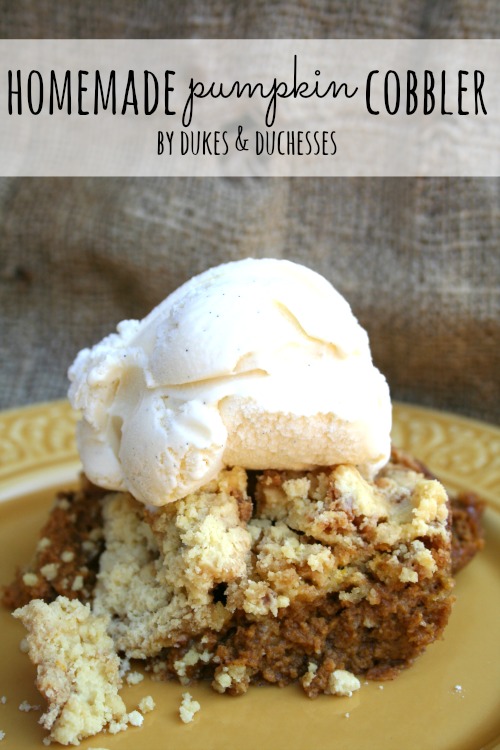 To make this pumpkin cobbler, you'll need a can of pumpkin, 1/2 cup white sugar, 2 eggs, 3/4 cup evaporated milk, 1 teaspoon orange extract, 1 teaspoon ground cinnamon, 1/2 teaspoon ground ginger, 1/4 teaspoon ground cloves, 1/4 teaspoon salt, one package yellow cake mix, and 1/2 cup melted butter.
It's the perfect time to stock up on cobbler ingredients at Albertsons!  Now through October 14th, Albertsons is hosting their Stock Up Sale.  You'll find special deals on a variety of items and the chance to mix and match to save money.  I saved on cake mix and butter and stocked up on flour for winter baking as well.
Once you've got the ingredients, mixing up the cobbler is quick.  Preheat the oven to 350 degrees and grease an 8 inch square pan.
Whisk together the eggs and the sugar until light then stir in the pumpkin, evaporated milk, orange extract, cinnamon, ginger, cloves, and salt.  Pour the mixture into the prepared dish.
Sprinkle the cake mix over the pumpkin mixture then drizzle with the melted butter.
Bake for one hour until the pumpkin is set and the top is golden brown.
Cut into squares and serve with a scoop of vanilla ice cream.
Enjoy this delicious pumpkin dessert … and be sure to stop by Albertsons for all your fall cooking and baking needs!