This shop has been compensated by Collective Bias, Inc. and its advertiser. All opinions are mine alone. #AdvilRelief #CollectiveBias
I have two kids in college this year, both of them away from home. It's been an awesome experience for them both but it tears up my mommy heart when they get sick or hurt … even though they're 18 and 19 years old! We never really stop being moms, do we? Since I can't be there for the small stuff, I made a dorm room first aid kit filled with the essentials so they'll be prepared for the blisters, paper cuts, and final exam headaches that are sure to come!
I stopped in at Target and grabbed everything I wanted to put in the first aid kit. Advil® is our go-to for pain relief and I decided to try Advil® Liqui-Gels® minis this time around. My kids don't usually have trouble swallowing pills but the Advil® Liqui-Gels® minis are 33% smaller than regular Advil Liqui-Gels®.
If you haven't tried them yet either, hover over the image below to shop the products at Target.com!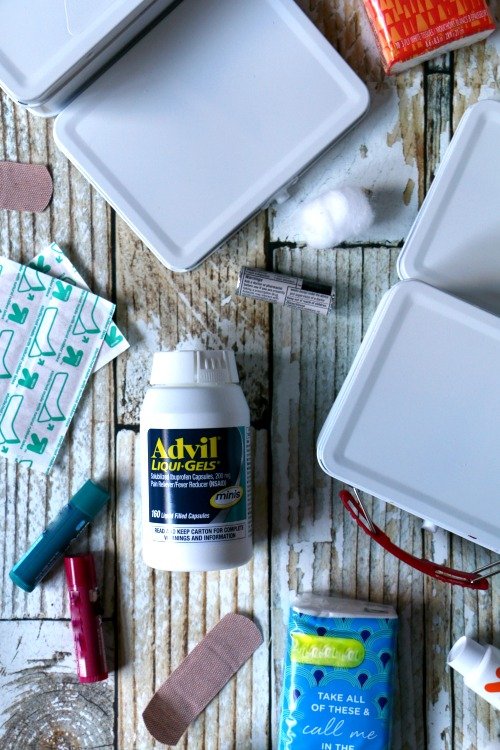 I like cute packaging and I thought it would be easier for my kids to remember what they have if it's all in one spot so I bought small metal lunchboxes at the local party store.
They had a character motif on them so I spray painted them white …
… and added a red vinyl cross so it looks just like a first aid kit.
Then I added the essentials. My kids get headaches, tonsillitis, blisters, and all kinds of normal issues that require a little pain relief and, among over the counter pain relievers, nothing's faster on tough pain than Advil. Advil® Liqui-Gels® minis have the same strength in an easier to swallow size.
I also added antibiotic ointment, tissues, bandages, lip balm, cotton balls, and antacids.
You could add in gauze, medical tape, allergy medications, or anything your child typically uses or might need in a pinch.
I'll feel better knowing my kids have what they need when they need it … and I'll keep restocking these dorm room first aid kits as the year goes on.
Have you tried Advil® Liqui-Gels® minis yet? Fast pain relief is now mighty small! Check out this product on Target.com and get 5% off through Cartwheel 10/29-11/18.
* Use as directed. ©2017 Pfizer Inc. LIQUI-GELS® is a trademark or registered trademark of Catalent Pharma Solutions.