I absolutely love the project I'm sharing today! This letterpress drawer vertical succulent garden combines one of my favorite thrift store finds with one of my favorite trends and is adding such a warm touch to my mantel. I'm debating whether I'll add a few more succulents or whether I'll hang it in a different room but for now, I'm loving this pop of green in our family room!
This project started with a vintage letterpress drawer that I scored at Goodwill one day! I actually found two of them, both priced at $2.99 each! Crazy, right? I used one on my vintage mantel last Christmas and I've pondered some other fun ways to use these letterpress drawers, but this one finally got a permanent new life as a vertical garden!
The details on this letterpress drawer are so great, especially the vintage pull.
I ordered mini two inch succulents online and they were absolutely the perfect size for this project. I placed them all in spots in the letterpress drawer …
… so I could see how they'd look before I actually started planting. I wanted to leave a lot of spots open so the letterpress drawer really shows but you could fill this garden in completely if you wanted.
I placed potting soil in the squares I was using …
… added the succulents, and then packed dirt in tightly around them.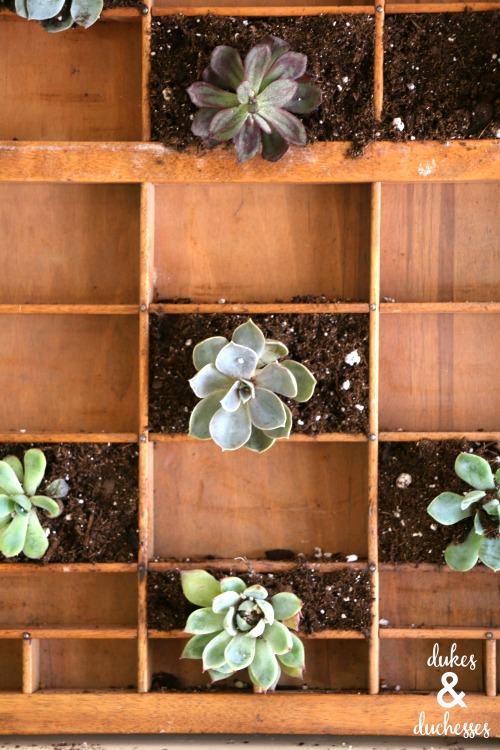 Dirt obviously fell into the open spaces as well and I just used my shopvac to clean out the open spaces.
This vertical succulent garden is on my mantel, leaning up against my vintage window and surrounded by air plants in vintage spindle planters, but I may hang it on the wall in my bedroom soon. I think it'll look pretty great no matter where I put it and I love the natural element it brings to a room.
A note: when watering these succulents, I lay the drawer flat, water lightly, and let it sit for a short period of time to allow the dirt to settle back in. Pack it again as needed but as your succulents root more, the dirt will really stay intact.

For more creative ideas using succulents, be sure to check out this cute pineapple succulent planter …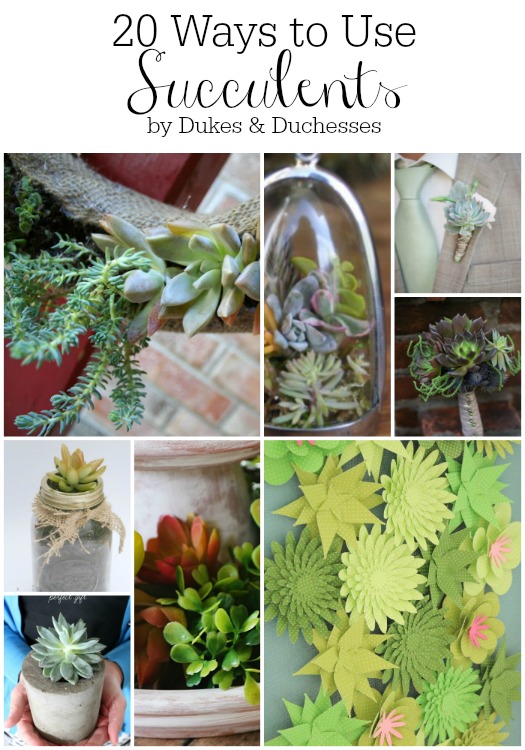 … a succulent in a mason jar …
… and a living wreath made with succulents.