One of my favorite things about summer are all the fresh herbs that grow in pots on my back patio. I love being able to walk out the back door to pick fresh herbs to sprinkle on roasted vegetables or stir into lemonade. And they make a really cute and simple gift idea too! Just mix them together in a fresh herb bouquet and you'll have a sweet and personal hostess gift to take to your next summer cookout!
Let me show you how easy it is to make a fresh herb bouquet. Grab a small mason jar or even a cute tin can that you can upcycle, fill it with water, and take small clippings of a variety of herbs. I like to mix a bit of almost everything I have growing in my yard: mint, marjoram, basil, oregano, parsley, and rosemary. The different styles and sizes of leaves mixed with different textures really create a cute bouquet.
Start layering the clippings in the mason jar, starting with larger pieces and herbs with larger leaves. Continue tucking in other herbs wherever you think they'll look good. There's no right or wrong way to do it so just have fun and be creative.
Let trailing herbs, like oregano, drape over the sides of the jar or stick out to the side.
Deliver the fresh herb bouquet to a friend or the party hostess for a seasonal twist on standard bouquets. The herbs can be kept in water and stored on the countertop or in the fridge for a few days and used as needed. It's a practical and unique idea!

For more herb ideas, be sure to check out this cute and simple muffin tin herb garden …
… a pizza garden for the back yard …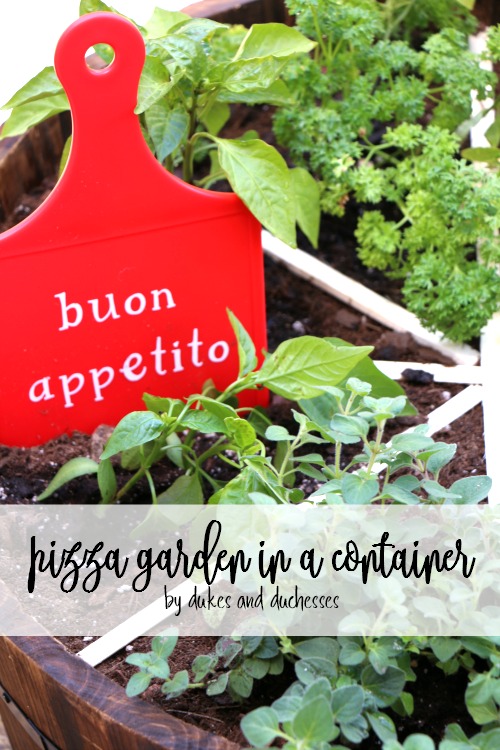 … and a DIY herb drying rack so you can dry your summer herbs and save them for another season!