This nutter butter cactus cupcakes post contains affiliate links.
Did you see the colorful cactus party I shared yesterday? One of my favorite parts of the party were the easy nutter butter cactus cupcakes and I promised I'd share all the details today! These cupcakes can be made by anyone, regardless of skill level, and they're the perfect ending to a cactus-themed party!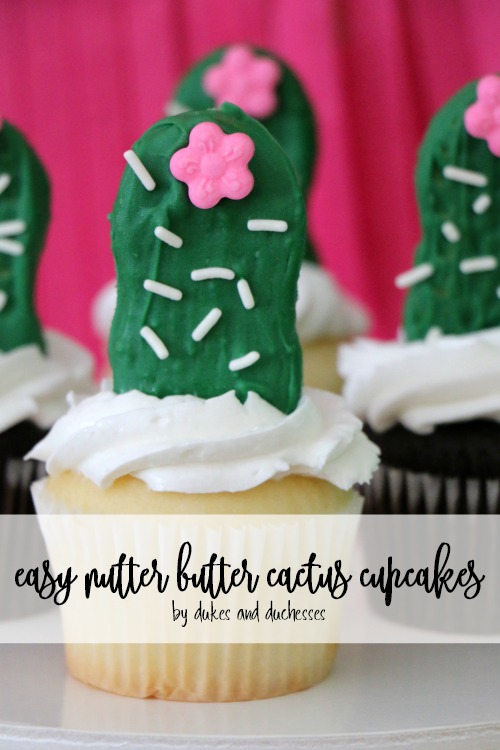 To make these nutter butter cactus cupcakes, you'll need homemade or storebought frosted cupcakes, a package of nutter butter cookies, green candy melts or white candy melts and green food coloring, white sprinkles, and pink candy flowers.
To make the cactus cupcake toppers, in a microwave-safe container, melt the candy melts according to package instructions. If you're using white candy melts, add the green food coloring to achieve the desired color.
Dip the nutter butter cookies into the melted chocolate then smooth away any excess. Don't worry about having a bit of cookie that isn't chocolate covered at the bottom. That part will be hidden in the cupcake.
Lay the coated cookie on a parchment paper or wax paper lined baking sheet and repeat with each cookie.
While the candy is still soft, place white sprinkles on the cookies and add a pink flower candy to the top of each one. If you're making a lot of cupcakes, work in batches so that the chocolate doesn't harden on the cookies before you attach the sprinkles and flowers.
Place the baking sheet in the fridge or freezer until the candy coating has hardened completely.
When the chocolate coating has fully hardened, push one cactus cookie into the top of each frosted cupcake, making sure it stands upright.
Simple, right? And so easy that you can have a batch made up for your party in no time at all.
These cactus topped cupcakes look so cute sitting on a cupcake stand at the party …
… and they're the perfect themed dessert!
What cactus desserts have you made?